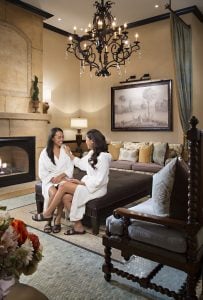 Once you step through the doors of a Burke Williams spa you will find an elegant oasis that offers a tranquil retreat from reality. While every Burke Williams spa experience is transformative, Orange Spa Manager Lee Gollnick offers his insider advice on how to maximize your spa experience and ensure that your next Burke Williams visit is the best yet.
At Burke Williams, guests are transported from the stress of everyday life the moment they step into the spa. To fully embrace this opportunity, Gollnick emphasizes the importance of leaving phones and electronic devices turned off. "Leave your phone turned off… Truly relax and leave the stresses of your daily life outside the spa," Gollnick says. "Enjoy our amenities and really disconnect, relax and unwind."
In addition to leaving your cell phones behind, Gollnick believes Wetroom treatments are too often overlooked. While massages and facials are quintessential Burke Williams treatments, "More people should be scheduling services in our Wetroom," Gollnick says. Wetroom treatments are ideal for maintaining healthy skin throughout the colder, winter months. Gollnick highlights that "Treatments in the Wetroom leave your skin soft, smooth and moisturized."
Gollnick also reveals the best time to visit Burke Williams for a private spa experience: Tuesday and Wednesday evening. Taking a midweek break at Burke Williams offers you a chance to recharge and "Enjoy the peace and quiet of the mid-week evenings," Gollnick reveals.
To make the most of your experience, Gollnick also encourages asking questions to the passionate and dedicated Burke Williams team during your next spa visit. They aim to transform your day.
Keep Gollnick's advice in mind the next time you book your very own Burke Williams spa experience by visiting BurkeWilliamsSpa.com