Hollywood
Welcome!
Our Hollywood spa is located at 925 N. La Brea Avenue. With 3,000 square feet, Burke Williams Hollywood favorite features such as a Conservatory, where you'll enjoy a variety of mini-services, and a Nail Care Salon with Steam Pedicures, and more.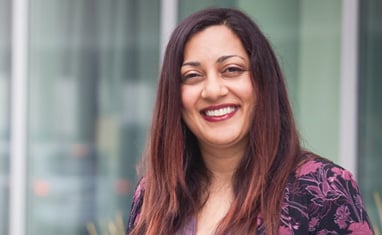 MONICA EHLERS
General Manager
---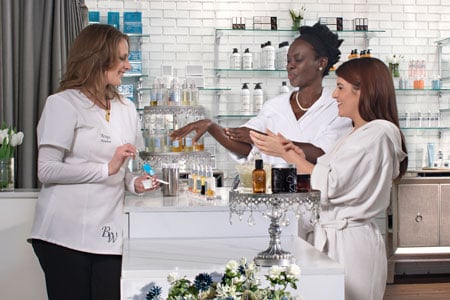 At Burke Williams Hollywood, we invite you to visit our Custom Blend Alchemy Bar where our treatment experts will help you blend the perfect aromatherapy lotion or oil for your service. Enjoying a spa bath? Create your own herbal blend! We've got over 10,000 ways for you to personalize your service to enhance your health or suit your mood. No need to book in advance. Simply allow time before your service to enjoy the myriad of essential oils and recipes you can use to create your custom blend.
Your personalized service blend:
$35 for non-members
$29 for members
Retail products for home use starting at $65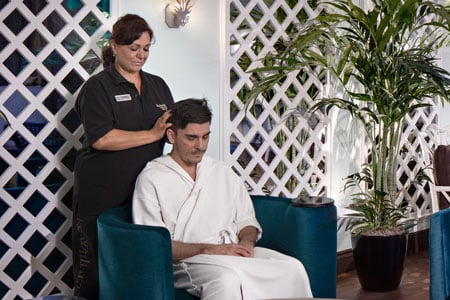 Enjoy one of our targeted treatments while you relax in our peaceful, co-ed Conservatory. Personalize your experience with one of our intentional aromatherapy blends: Renew, Unwind, Rejoice, or Love—included in each service.
Hand and Arm
The service begins with your palm resting on our hot Himalayan stone. Your therapist will massage your hands and arms, eliminating stress and reducing the effects of our technology-centered lives. You'll leave with your hands wrapped in our luxurious logo gloves.
Leg and Foot
This treatment begins with the soothing warmth of our hot Himalayan salt stone. We'll blend your intentional aromatherapy choice with our unscented massage lotion and you'll enjoy an exquisite foot and leg massage. Seal in moisture with our luxurious logo socks.
Neck and Scalp
Warm Himalayan salt stones relax your muscles while our skilled therapist massages the scalp and neck. This service includes an essential oil sachet for home use to encourage you to "restore," "renew," and "unwind" more often.
Anti-Aging for the Hands
Experience the anti-aging benefits of our professional strength H2V Youth Cell activator and ECOFIN paraffin alternative. Your hands are enveloped in warm aromatherapy mitts while you enjoy a soothing arm massage. You'll leave with your hands wrapped in our luxurious logo gloves.
Services run approximately 20 minutes
$39 for non-members
$34 for members
---
Hours of Operation
Monday, Thursday, and Friday: 9:00am to 10:00pm
First service begins: 10:00am
Saturday & Sunday: 8:00am to 10:00pm
First service begins: 9:00am
Current Address
925 N. La Brea Ave
Hollywood, CA 90038
Phone: 323-822-9007
Fax: 323-883-1895
Google Map
Parking
Guests may enter the garage off La Brea Ave., between the Burke Williams Spa and Sprouts Farmers Market. Please park on the 2nd floor and take the elevator down to the main lobby. Complimentary parking validation is included.
---
Visit our Registration Page and sign-up to receive our current promotions and special events by email.
Are you planning a special event? Our spa is available for everything from Bridal Showers to Corporate Events. Specific requests are welcome—all events are customized to your needs. For example:
Rent the entire spa for your private event or party.
Catering and wine is available for larger groups. We have preferred caterers. Outside vendors and menus require approval of spa director.
To plan your event at our West Hollywood location, please contact our general manager at 323-822-9007.
While you'll frequently find us out and about in the community or hosting an event in our spa, we don't have anything on the calendar right now. Please check back soon!