Sherman Oaks
Welcome!
Our Sherman Oaks spa is conveniently located on the second floor of the Sherman Oaks Galleria. This beautiful location reflects the comfort and grandeur of an old English country manor. Relax by the fireplace in the main lounge or enjoy the sumptuous luxury of the marble and granite that adorns the women's and men's spas. With over 25 treatment rooms, this elegant facility is a perfect location for entertaining and includes a second private lounge available for small groups. The therapeutic aroma of our signature essential oils wafts through the air. A quiet room provides a relaxing environment with lovely recliners, dim lighting, and herbal tea before and after your treatments.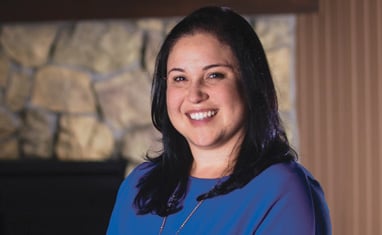 DANICA AMSTADT
General Manager
2019 Reader's Choice Winner
Best Day Spa, Los Angeles Daily News
2021 Reader's Choice Winner
Best Day Spa, Los Angeles Daily News
---
Hours of Operation
Monday, Thursday & Friday: 9:00am to 10:00pm
First service begins: 10:00am
Saturday & Sunday: 8:00am to 10:00pm
First service begins: 9:00am
Address
15301 Ventura Boulevard, Unit 4
Sherman Oaks, CA 91403
On the second floor of the Sherman Oaks Galleria.
Phone: 818-789-3339
Fax: 818-789-3176
Google Map
Parking
Guests may enter the Sherman Oaks Galleria garage off Sepulveda Blvd. or Camarillo St. Complimentary parking validation is included.
Monday-Friday
2-hour validation for a 50-min service
4-hour validation for an 80-minute or multiple services
Saturday & Sunday
2-hour validation only
$3.00 maximum weekend daily fee
Parking Rates:
$2.50 every 15 minutes
$10.00 every hour
$25.00 daily maximum
---
Visit our Registration Page and sign up to receive our current promotions and special events by email.
Brides and Mom's-To-Be
Book a shower with a party of six or more Monday through Thursday and the guest of honor will receive a complimentary spa pedicure! Mention you saw this on our website when booking your party.
NOTE: The above offers are exclusive to the Sherman Oaks Location and are not valid toward the purchase of gift certificates or products. Offers do not apply to gratuity. Offers cannot be combined with any other coupons or membership savings. Only one offer may be used at a time.
Are you planning a special event? Our spa is available for everything from Bridal Showers to Corporate Events. Specific requests are welcome—all events are customized to your needs.
• We have Bronze, Silver, and Gold packages for smaller groups.
• Rent the entire spa for your private event or party. With 17 massage rooms, 6 facial rooms, and 3 nail care stations, we're confident we can accommodate your group.
• Catering and wine is available for larger groups. We have preferred caterers. Outside vendors and menus require our approval.
• For more information, download our brochure. To plan your event at our Sherman Oaks location, please contact our general manager, Danica Amstadt at 818-789-3339 or by email at: danicaa@burkewilliamsspa.com.
While you'll frequently find us out and about in the community or hosting an event in our spa, we don't have anything on the calendar right now. Please check back soon!