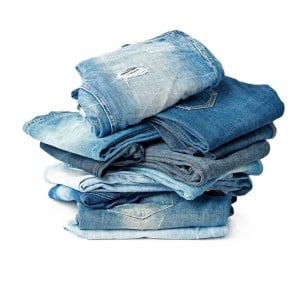 A few weeks ago, Wrangler released a line of moisturizer-infused jeans called "Spa Denim." What's even crazier than a blue-jeans company crossing over into the beauty industry is the fact that the product sold out on ultra-trendy online retailer Asos in just 48 hours. If you didn't get the chance to test out this strange innovation, don't worry. We've got three tried-and-true ways to keep your legs looking soft and sleek.
Stick to a routine. Keeping your skin soft during the colder months requires some diligence, but it's easy if you simply get into a daily routine. Moisturize your legs when you wake up, before you go to sleep and, most importantly, right after you shower. (Your pores are open and more receptive to moisture then.) If you get into the habit of doing this each day, your legs will be soft and smooth – spa denim or not.
Indulge in a real spa treatment. Spa denim might help your dry skin, but it certainly can't relax your mind and your body like a real spa session can. Try our Parafango Treatment for an experience that's wonderfully soothing and deeply moisturizing. We'll exfoliate your legs with a rigorous salt scrub, then coat them in a skin-softening Parafango mud and wrap them in a thermal blanket. And because you want to keep your face looking as flawless as your legs, we'll treat yours with our exclusive H2V skincare products. You'll leave positively glowing from head to toe.
Treat yourself well from the inside out. Real change comes from within, and although that old saying refers to the mind and heart, the same is true of the body. Cut out dehydrating beverages like coffee and cocktails, and drink more water. Eating foods that are high in essential fatty oils – like walnuts, salmon and olive oil – will also help with dryness.
While we appreciate the originality of spa denim, spa denim wearers only saw significant results when they wore the jeans (without washing them) for eight hours a day, five days a week. People who want real results go to real spas, because they know that good old-fashioned skincare just can't be beat. What do you think? Would you give spa denim a try? Stop by our Facebook page and let us know.