By: Jennifer Wilson of Modern Ensemble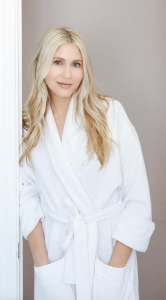 The holidays are always the most magical time of year for me. I love the crispness in the air,decorating my Christmas tree, and sipping all of the festive holiday drinks! I also love attending holiday parties because it is a great way to catch up with people you haven't seen in a while. I am not going to lie, I love dressing up in festive attire too.
That being said, between parties, travel plans, and seeing family, this time of year can also be seriously exhausting. I find myself running from plan to plan, almost every single night, once the month of December sneaks up. I think it is important to make time for rest and relaxation during this time of year and what better way to do that then by recharging at the spa? That's why I like to try and find time in December to give myself a massage. It has also become a go to gift!
I always find it hard to find gifts for a few family members and friends who have everything and don't need anything! We all know those difficult people, right? Luckily, Burke Williams has us covered. Burke Williams gift cards takes the guesswork out of gifting and always ends up on my shopping list for a few certain individuals that shall go unnamed. I think a gift card is one of the best gifts you can give because it leaves endless options for the receiver. Whether they prefer a facial or massage, they are sure to enjoy this luxurious treat.
If you're looking for a gift idea that will be sure to impress family and friends, Burke Williams has 4 fantastic gift card packages to choose from. One of my favorites is "A Present of Peace," which includes a facial or massage and an enhancement. It's a sure way to go. But in case you were wondering, I have my eyes on "A Year at Burke Williams," an extraordinary gift that keeps on giving all year long. This package includes 12 individual services or 4 spa days each that loved ones can use to relax all through the new year.

The most wonderful time of year shouldn't be stressful, and the gift of rest and relaxation is the perfect thing to wrap up in a bow and give to someone during this busy time of year.