In preparation for the Emmy's red carpet, Burke Williams had the honor of participating in two days of pampering and gifting galore at the GBK Emmy's Gifting Suites. The beautiful Viceroy L'Ermitage Beverly Hills served as the sophisticated setting for the star-studded gifting suite where relaxing massage sessions and informative skincare tips were provided by our incredible Burke Williams team. Stars including Hollywood Medium's Tyler Henry, Queer Eye's Karamo Brown, Scandal's Joshua Malina, Orange is the New Black's Selenis Leyva and many more nominees and presenters enthusiastically embraced the Burke Williams experience. Take a peek at our favorite moments from the GBK Gifting Suites in Beverly Hills and treat yourself to a star-quality service at Burke Williams by booking your very own transformative treatment!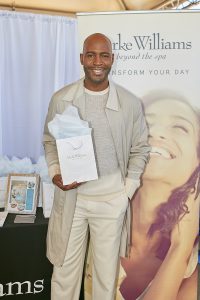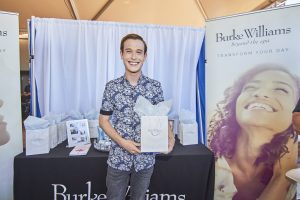 The Burke Williams Gifting Suite included an elaborate display of flowers, gift bags and H2V products that were not only pleasing to the eye, but that carried the promise of radiant and re-energized skin. Our skincare experts were a wealth of knowledge for stars, providing information on the H2V collection and its incredible ability to enhance and nourish the skin. Celebrities were welcomed with warm smiles and elegant gift bags filled with Beyond pumpkin mask, Youth Cell Activator and a 3-Day Spa Pass to indulge in the full Burke Williams experience at one of our 10 spa sanctuaries across California.
Stars such as Fuller House's Michael Campion and Glow's Jackie Tohn took a moment to relax, unwind and calm their mind with a complimentary massage to reduce stress and tension before their big red-carpet moment. The soothing service offered a relaxing preview of the multiple massage types offered at Burke Williams.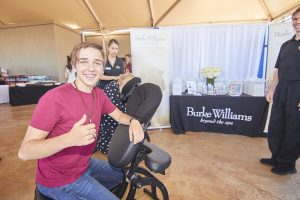 One of the most essential elements of the Burke Williams experience is the accessibility to such a skilled team of skincare and treatment experts that are committed to enhancing guest's sense of well-being, one service at a time. Burke Williams was honored and elated that stars took the time to visit the suite and expand their skincare knowledge. The GBK Emmy's Gifting Suite was a monumental success, and Burke Williams was flattered to be in the company of so many other luxurious and innovative brands.
To receive your own star-quality treatment and skincare consultation visit BurkeWilliamsSpa.com to book an appointment!