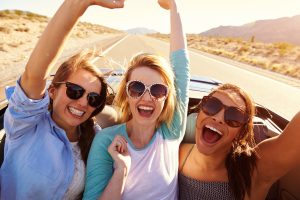 Summertime is the season of adventure, and what better way to tap into your spontaneous side than with a last minute road trip. Whether gearing up for a cross-country journey or slipping away for an overnight adventure, packing the perfect travel bag can make or break your vacation. Overloading with multiple accessories and an array of makeup is tempting, but with a little preparation you can cut down on the clutter and make room for more fun.
The first step to packing starts with selecting a bag that works best for you. Take a moment to decide if a backpack, shoulder bag, or purse will offer you the most on your getaway then plan your pack attack. We've rounded up essential products and apparel that will help you stay beautiful, comfortable, and prepared. Take into consideration our must-have items and get ready to hit the road with your perfect travel bag!
For Beauty
When it comes to on-the-go skin creams, nothing beats a good BB cream. Beauty, blemish balms help moisturize, protect and correct your skin with just one product. Find a BB cream that fits your skin tone and keep it handy for all-day, all-temperature touch ups. Once you're BB cream is in place, reserve a spot for one multi-shade eye shadow compact. Make sure the color palate is flattering for various occasions and you're set for daytime travels and nighttime adventures.
Another great item to keep in your bag is nail polish. This isn't meant for pedicures on the dashboard (although if you're feeling brave and traveling on smooth highways, it could be an option!), it's meant for quick touch ups at the end of the day. Next to your nail polish, make room for a small package of moist towelettes. There are innumerable occasions to use this handy product, whether refreshing from a long car ride or cleaning up after a meal on the go.
For comfort
Sunglasses are a fun and flirty accessory that can add style to any outfit, but they also help you avoid squinting and the fine lines that follow. Travel tip: pack an extra pair! Nearly everyone has had the misfortune of losing a pair of sunglasses or leaving them behind while traveling. Keep an extra pair in your bag and you (or someone else on your trip) will reap the benefits! Band-aids are helpful for first aid, but they're also handy in an uncomfortable fashion pinch. Driving doesn't involve excessive movement, but oftentimes the destination does. Band-aids are perfect for blisters that come from footwear, and they're also good to have on hand for any other areas that become irritated from exercise.
When it comes to comfort, sunscreen is essential. Packing sun protection for trips to the lake or beach is a no-brainer, but it's also important to have it on hand for a day at the amusement park or enjoying a weekend music festival. If you're out and about your lips are just as likely to burn as the rest of you and lip balm is a must-have product. The trick to purchasing a great lip balm is finding one made with SPF 15 and moisturizers to keep your lips healthy and hydrated.
After you've packed your perfect bag, take a moment to pack another travel bag – for your car! Keep a roadside travel kit in your car with jumper cables, an air pressure gage, and tire patches to ensure everyone – and everything – has all of the essentials they need for an unforgettable journey that's just as exciting as the destination. Now hit the road!