We love the skincare resolutions we've seen the skincare community and our own Burke Williams members make for 2019! Skin is the body's largest organ and acts as a protective barrier and diagnostic tool. Properly taking care of your skin is important for both health and confidence. Who doesn't love the healthy, radiant glow that comes from beautifully polished skin?
At Burke Williams, we believe regular facials are one of the best ways to prioritize your skin. Facials prevent signs of aging, detoxify the skin, reduce stress and tension headaches, treat scarring, and help your favorite beauty projects penetrate deeper into the skin to work their magic.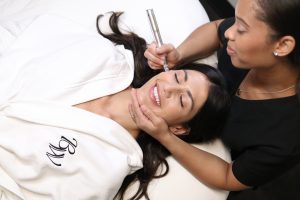 Our new Regenerate Anti-Aging Facial is a great option to kick-start your 2019 skin goals. Regenerate reduces wrinkles, fine lines and scars while simultaneously developing youthful, elastic, firm skin. In this facial, a revolutionary nano pen helps improve cell turnover rate, while also giving way to powerful stem cells and peptides that penetrate deep into your skin.
After the nano pen has prepares the skin, a decadent freeze-dried pure collagen masque is applied to soften wrinkles and slow collagen depletion. The ground-breaking nano-infusion technology paired with the pure collagen mask creates instant results so your skin will look noticeably brighter, smoother and more plump immediately after the facial. If that doesn't regenerate your confidence immediately, it certainly will as your skin continuously improves in the weeks following the treatment!
For both a glowing face and body, relax in the sauna or steam room in addition to regular facials. The heat from the sauna and steam room opens pores and increases blood and lymphatic circulation that will help soften the skin and clear out impurities. Make sure to moisturize afterwards to lock in the hydration benefits and you will be on your way to having your best skin year yet in 2019!