Here at Burke Williams, we believe that confidence and self-esteem are some of the most essential qualities that one can possess. Our new state-of-the-art Med+Spa facility, under the direction of Beverly Hills plastic surgeon Dr. David Hopp, allows you to add YouthFill MD medical aesthetics to your facial or massage to help relax, refresh and get an added boost of confidence!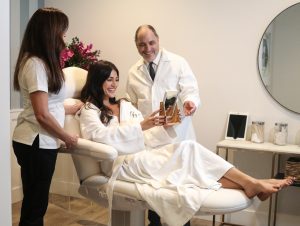 Burke Williams skincare experts, including Diane Hibbard, our Vice President of Treatments and Development, offered some Med+Spa facts and tips to help make the most of your experience.
We stop producing collagen and elastin at age 25, but you can regenerate it with Med+Spa treatments such as Juvederm, Restylane and Botox to get a more youthful and refreshed appearance.
The number of Botox units that you need depends on how much movement you have in the forehead, how deep the lines are, the width of the forehead and the height of the hairline. Not sure how much is best for you? We got you covered! A Med +Spa expert will work with you to determine how much Botox is best to achieve your desired results.
Increase the longevity of your Botox treatment by pairing it with a Radiance Facial. These innovative facials use NuFACE microcurrent technology which helps lift and firm skin, reinforcing the results of Botox.
Looking for fuller lips? Juvederm Ultra XC will give you a soft, natural, full lip, whereas Juvederm Ultra Plus XC is great for nasal folds and filling in acne scarring for a smoother appearance with added volume.
Thought B12 was only good for boosting metabolism? Try a B12 injection to promote healthy brain function, balanced hormone production, improved digestion and increased red blood cell formation. Results are typically felt immediately after your first treatment.
Whether your goal is subtle or dramatic, we'll design an individual program to help you have the ultimate spa day with a confidence boost. For more information on Burke Williams Med + Spa visit our website here.