Smooth, soft and glowing skin - we all want it. Skin simply cannot glow if it's covered in built-up dead cells, or dry and rough from dehydration. That's why you need regular exfoliation, but not all exfoliants are equal. Unlike ground apricot or walnut shells, salt and sugar naturally dissolve during use. What does this mean for you? During your treatment they'll gradually morph from a scrub into a polish, perfecting your skin. Plus, if you're ambitious you can even make your own concoctions at home!
Here's what you need to know about DIY sugar and salt scrubs:
Sugar Scrubs
Table sugar granules are rounder than salt granules, which makes them less abrasive. This makes them perfect for the face and any areas of sensitive skin in general. Table sugar also dissolves quickly in water, which is an advantage for those seeking a milder scrub. Use brown sugar in the bathtub (the scent is otherworldly) or mix it with a water-based cleanser or moisturizer.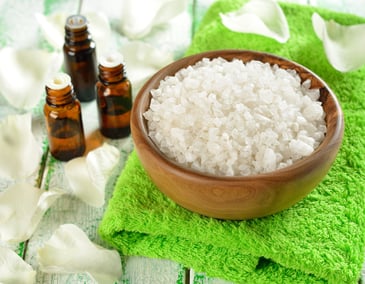 Unrefined cane sugar also contains the nutrients calcium, iron, magnesium and potassium, which feeds and replenishes your skin. The unrefined version is naturally scratchier than table sugar, so skip your face and use it only on your body. If you have any skin abrasions, sugar is definitely what you want - salt will sting.
Salt Scrubs
The sharp angles of sea salt granules make them a strong exfoliant (don't bother with table salt - the refining process removes its beneficial properties). Because it's more abrasive, choose salt for scrubbing notoriously dryer areas of your body - feet, elbows, knuckles and legs.
Sea salt also draws toxins out of the body and acts as an anti-inflammatory for sore muscles. Epsom salts, though not actually salt (they're magnesium sulfate), are world-renowned for their detoxification powers and work best in the bathtub.
Mix sea salt with an oil-based cleanser or moisturizer for a deep-cleaning scrub. Add a few drops of your favorite essential oil or herbs for an extra benefit of aromatherapy.
If using a salt scrub, stick to one use per week. The milder sugar can be used two or even three times per week.
Interested in a scrub down? Make it a heavenly one with one of Burke Williams Spa's signature Sugar Glo and Salt Glo full-body treatments, which harness the power of natural, nutrient-based exfoliation to leave your skin glowing and renewed. Consider a spa membership for a deep discount on a treatment or a gift card for someone special.