A bouquet of blue hydrangeas pulls the Sunday brunch table together. A vase of long-stem roses on a cluttered desk brings a touch of romance to your dreary corporate office. Flowers bring beauty wherever they bloom, and if you can learn to harness their appearance-boosting benefits, they might just share some of that beauty with you.
What kind of benefits are we talking about? It depends on the flower in question. Take the classic rose, for example. We all know that rose petals have a light and luxurious scent, but many women don't realize that rose petals also have antibacterial and anti-inflammatory properties. This makes them a great choice for facial moisturizers and other skin products such as H2V Quench moisturizer, which can help fight blemishes and redness while it nourishes the skin.
Though not as well known as the rose, chrysanthemum blossoms also have beautifying powers. Chrysanthemum tea is a much-lauded herbal cure for everything from sore throats to blocked arteries. You'll find chrysanthemum in our H2V Hydrate cleanser, which also contains vitamin C to help brighten and repair the skin. Our formulation helps soothe rosacea and eczema while fighting acne and dry winter skin.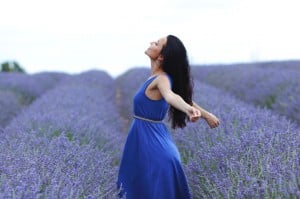 You'll find lavender extract in our Moisture Revival spa bath and several other Burke Williams services and products – and for good reason.
The dainty purple flower is widely hailed for its relaxing qualities. Lavender also packs in potent antioxidants that can help your skin battle environmental toxins by promoting cell renewal, which leads to younger, more radiant looking skin.
Of course these pretty petals are just a few of our favorite flowers. Book an appointment with a Burke Williams Spa today and let one of our expert estheticians help you pick the perfect bouquet of floral-powered spa treatments.
At Burke Williams, beauty is always in full bloom.