Time is a funny thing. On one hand, it grants us wonderful gifts like experience, wisdom and a lifetime of cherished memories. On the other hand, it brings unwanted gifts like wrinkles, age spots, sagging skin and thinning hair. While signs of aging can be looked at as evidence of a life well lived, they don't always feel like something to be proud of. So what's a maturing woman to do? Fight back, of course, with simple tips like these: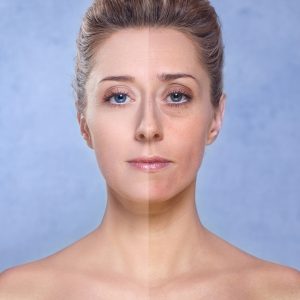 1. Adopt a youthful lifestyle. Spa treatments and at-home products are great tools for keeping skin youthful, but they can only do so much if all your other daily choices are working against you. It's time to rethink your lifestyle and help your body stay youthful from the inside out. That means getting at least 30 minutes of physical activity a day, enjoying a full eight hours of beauty rest every night, and eating a diet that's high in antioxidants (think raw fruits and veggies) and low in artificial ingredients and chemicals. Of course, it also means ditching habits that rapidly increase signs of aging, like smoking.
2. Create a routine and stick to it. Your youth-preserving tactics won't go far if you only remember them sometimes. For a simple daily regimen, use products like H2V Regenerate anti-aging cleanser, H2V Youth Cell Activator and H2V Advance D3 anti-wrinkle treatment. Make a pact to follow your new routine every single day, and give your results a monthly boost with a trip to the spa for an anti-aging facial.
3. Save yourself from sun exposure. Damaging UV rays can make a big impact on skin health. To rescue your skin from discoloration and wrinkling, don't leave the house without an SPF moisturizer like H2V Protect – even in the winter. And it's best to avoid sunbathing and tanning beds if youthful skin is your goal. Instead, embrace your natural tone, or use bronzers and spray tans. You'll still get the glow you're after, but without all the damaging side effects
When you use these simple tips to fight the signs of aging, you won't have to approach the future with anxiety over your appearance. You can look back on the years behind you with pride, embrace the road in front of you with excitement, and wake up each day feeling positive. Just like a bottle of fine red wine, you too can get better with age.