National Relaxation Day is celebrated annually on August 15 and serves as a great reminder for the importance of taking the time to relax and rejuvenate. In honor of this self-care celebratory day, Burke Williams in Santa Monica welcomed press and influencers for an opportunity to retreat from reality and indulge in an evening of transformative treatments and luxurious amenities. Among the pampered guests was actress Scout Compton, social influencer's Hannah and Sarah Montazami, the Editor from Radar Online, and DAYSPA associate editor Jasmine Brown.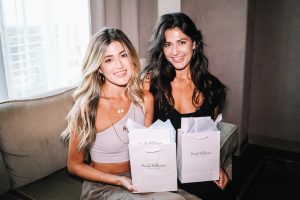 During the pampered evening, guests were outfitted in signature spa day robes and received a multitude of mini-services. These services included express facials, mini-massages and several members of the press were even able to experience wetroom treatments for the first time. The wetroom treatments utilize specially designed showerheads that envelop the body in cascading streams of water that work to relieve stress and melt away tension.
Burke Williams guests sipped champagne and enjoyed light bites while they received personalized skin consults from our skin care experts. Press and influencers learned the tips and tricks for taking care of all skin types from dry, oily, and combination. Guests were also introduced to the H2V skincare line and listened to one our experts discuss this exclusive collection of world-class products that combines herbal ingredients with tested and proven scientific components for enhanced and re-energized skin.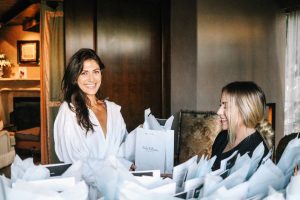 In addition to mini-services, press enjoyed all of the serene amenities that Burke Williams has to offer. This included the sauna, eucalyptus steam room, whirpool, showers and cool mist room that are all an essential part of the experience at our elegant oasis.
As the event came to a close, guests left feeling refreshed with elegant gift bags that included the refining exfoliant, Buff, Triple C - a vitamin C serum and Beyond, a hydrating pumpkin mask. These products will help guests feel refined and refreshed after every use.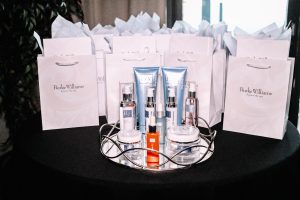 Although National Relaxation Day only comes once a year, at Burke Williams, we believe in pampering and taking care of yourself all year long! For more information about Burke Williams and all of the treatments and amenities offered, visit www.BurkeWilliamsSpa.com, or stop by your local Burke Williams for a facial and to learn more about which products will help transform your skin!