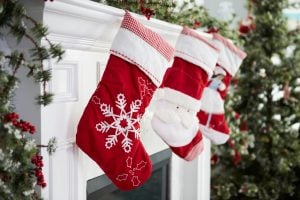 Tis the season for last minute shopping! If you're looking for the perfect gift for the spa lover in your life, consider filling their stocking with items to help them relax and revitalize. Relaxation is an important part of health & wellness, and giving the gift of tranquility offers the ultimate holiday cheer while healing the mind, body, and spirit. From the luxurious escape of a spa day to at-home relaxation tips, check out the options below to help your loved ones unwind over the holidays and feel renewed for 2018.
Burke Williams Holiday Gift Cards
Slip something spectacular into festive stockings this year with Burke Williams Holiday Gift Card Packages. These customizable gift cards are ideal for spa lovers and include a fabulous gift just for you. Give the special people on your list an "Escape" for $150 - $249 and receive a bonus $50 gift card, and "Transform" someone's day for $250 - $399 and receive a bonus $100 gift card. "Indulge" in Burke Williams for $400 - $499 and receive a bonus $150 gift card, and experience the "Ultimate" for $650 - $749 and receive a bonus $250 gift card. Each gift card package comes with a coveted 3 Day Spa Pass and welcomes the spa lovers in your life to kick off the New Year feeling refreshed and invigorated!
Celebrate with Spa Quality Skincare
Nothing compares to the refreshing feeling of a facial, and you can gift the ones you care for with spa quality skincare products that will leave them feeling reinvigorated year-round. Burke Williams' exclusive H2V skincare line is incorporated into facials by skilled estheticians, and can be purchased online or in-spa. Buff exfoliator is great for men, women, and teens and uses bentonite clay and microdermabrasion crystals to exfoliate skin and reveal natural glow. R3 Transform is another fantastic stocking stuffer for the spa lover in your life, targeting fine lines and wrinkles for firmer skin.
Aromatherapy is the Air
Healing aromas can help the ones you love find calmness, aid with sleep, and even support the immune system. Burke Williams offers Aromatherapy Enhancements by Body Bliss to elevate a massage, but also offers products in-spa. Swing by your local Burke Williams to pick up stocking-sized Body Bliss products including lip balms, lotions, and essential oils, and grab a scented candle from your local candle shop to complete the theme.
For more information on Burke Williams locations and services visit www.BurkeWilliamsSpa.com.