It's your party and you'll cry if you want to -- especially if someone overturns the punch bowl on your new ivory carpet. Plenty can go wrong when you play party host, and taking care of every detail means you have little if any time to enjoy the festivities yourself. So why not move your next party out of your home and into your local Burke Williams Spa instead? These four occasions provide the perfect excuse for a spa day: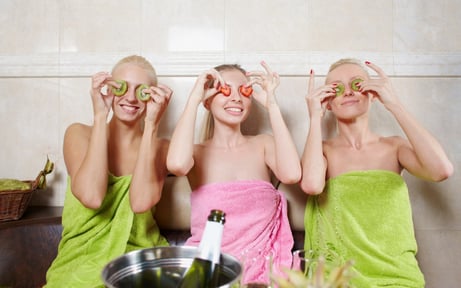 Bachelorette Bash. Why arrive to your ceremony sleep-deprived and hungover, when you can be refreshed and radiant instead? For bridal parties who'd rather visit a massage table than a string of seedy dive bars, a pre-wedding spa party couldn't be more perfect.
Baby Shower. Once that bundle of joy arrives, mom won't have much time to relax and unwind, let alone treat herself to a full mani-pedi. So help her savor those last few moments of adult solitude by hosting your baby shower at the spa.
Happy Birthday. Your birthday is all about you -- but that doesn't mean your girlfriends can't share the benefits! Book a spa party to help your posse feel posh, then hit the town to show off your new looks.
Finals Week. Whether you're taking your bar exam or simply struggling through senior year, nothing nixes stress like a day of spa baths and facials. Reward yourself after finals are finished, or plan a special spa party mid-week to bring clarity and focus back to your study group (and for to sneak some extra bonding time into your busy schedule, bring your mom/daughter).
Of course you don't need to wait for a special event to pamper yourself. Declare next Friday "Official Treat Yo' Self Day" and round up your girls to celebrate, or create your own occasion worth ringing in. Then contact Burke Williams to schedule the perfect pampering party. We're happy to help!